This post contains affiliate links.  When you click on a link in this post and make a purchase, I will receive a small commission at no extra cost to you.  I appreciate your support.
It was a beautiful sunny morning and I was determined to get the kids out to the park.  The park was less than a mile away but we had to cross several busy streets to get there so we opted to drive.
Once we arrived we piled out of our seats and hit the playground running.  Several minutes later our very good friends showed up.  We hadn't planned to meet there at all, this was simply a coincidence.  The kids were thrilled!
Her son jumped out of the car and came tearing across the parking lot to reach my son.  That's when it happened.  He slipped on the loose gravel and ended up sprawled out on the pavement.
It was painful to watch.
But even more painful for him.
Neither one of us moms had anything in the vehicles to clean him up or take away his pain.  I thought I was prepared with water bottles and sunscreen, but I didn't have any kind of first aid supplies with me.
They had to leave the playground because he was in need of some cleaning up and at least a couple of band aids.  We were sorry that our chance meeting for fun had been cut short by injury.  If only I had placed some basic first aid supplies in my van they would have been able to stay.
And this is how my Mobile First Aid and Supply Box (aka Van Box) was born.
 In a hurry?  Check out first aid supply kits here.
Make A First Aid Kit For Kids On The Go
I'll show you how to build your own so you'll be prepared if one of your kids (or one of their friends) needs something while you're away from home – even if it's less than a mile.
The first step in making a great mobile first aid kit is to pick up a clear plastic box. Clear because you want to be able to identify what is inside immediately. You also want to get one with a latched lid. That way it will prevent the content from spilling out while driving or if the box is dropped. I find that a 15 quart box is the perfect size as it will fit everything I need and slide snuggly under the bench seat in my van.
Now let's fill that box!
First Aid Kit:
I recommend buying a prepared kit as it will provide you with an easily identifiable box that you can use for a long time. Simply restock the band aids and other items as you use them.
I recommend buying a prepared kit as it will provide you with an easily identifiable box that you can use for a long time. Simply restock the band aids and other items as you use them.
&
Make sure it contains:
absorbent compress dressings (5 x 9 inches)
adhesive bandages (assorted sizes)
adhesive cloth tape (10 yards x 1 inch)
antibiotic ointment packets (approximately 1 gram)
antiseptic wipe packets
1 instant cold compress
nonlatex gloves (size: large)
hydrocortisone ointment packets (approximately 1 gram each)
Scissors
1 roller bandage (3 inches wide)
1 roller bandage (4 inches wide)
sterile gauze pads (3 x 3 inches)
sterile gauze pads (4 x 4 inches)
Oral thermometer (non-mercury/nonglass)
Tweezers
First aid instruction booklet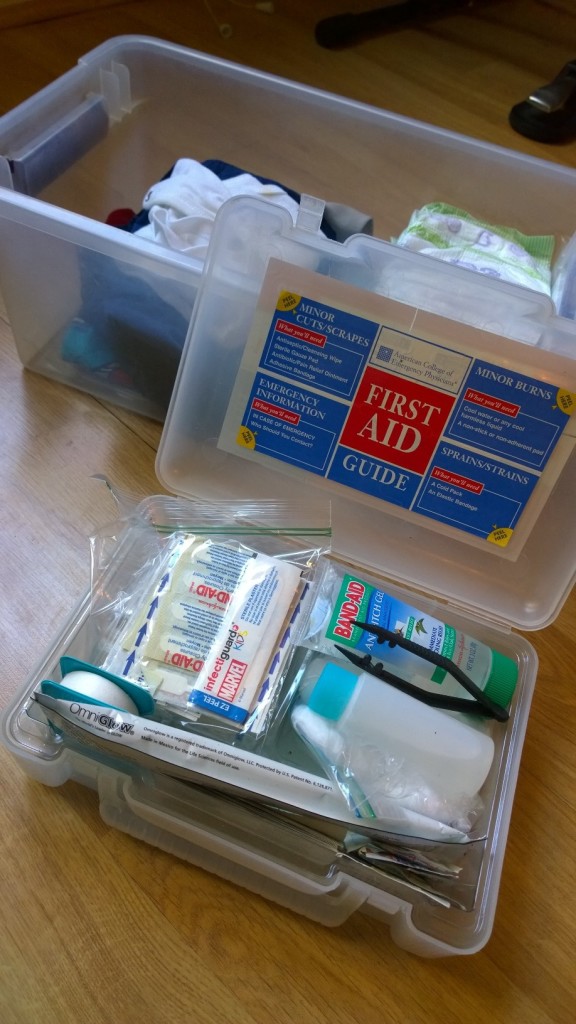 Start here and, as you use items or they expire (if you've added any pain relievers), replace them.  Check your supplies twice a year and take inventory.
Bonus!!  Extra Supplies:
Being out and about with kids can be full of surprises.  I once was taking my oldest son to football practice in our brand new van when another little one suddenly got sick and threw up all over himself and his car seat.  Fortunately, the van seats made it through unscathed but I can't say the same for his outfit.  As I pulled over in the parking lot, I had to remove all of his soiled clothes.  Unfortunately, I didn't have anything to replace them with and my boy had to ride home in just his underwear.  And this is where the "bonus" comes in. I've broken into these extra clothes on several occasions after leaky diapers or spilled drinks.  I've also been able to grab extra diapers and clothes out of this supply for friends-in-need at play dates.   In order to save space, I just have a size appropriate onsie for the littlest one and comfy pants and t-shirt for the next older child.  I recommend not using anything special, fancy or something that is a "favorite".  These clothes will be living in the van/car for months and possibly lent out to friends.  Don't choose their favorites for this.
Place the following things inside:
at least 2 diapers in current size for all kids in diapers
diaper wipes
extra plastic bags to put soiled diapers in or soiled/wet clothes
a change of clothes for every child who is 5 or under.
non-perishable snacks
Bug spray
Sunscreen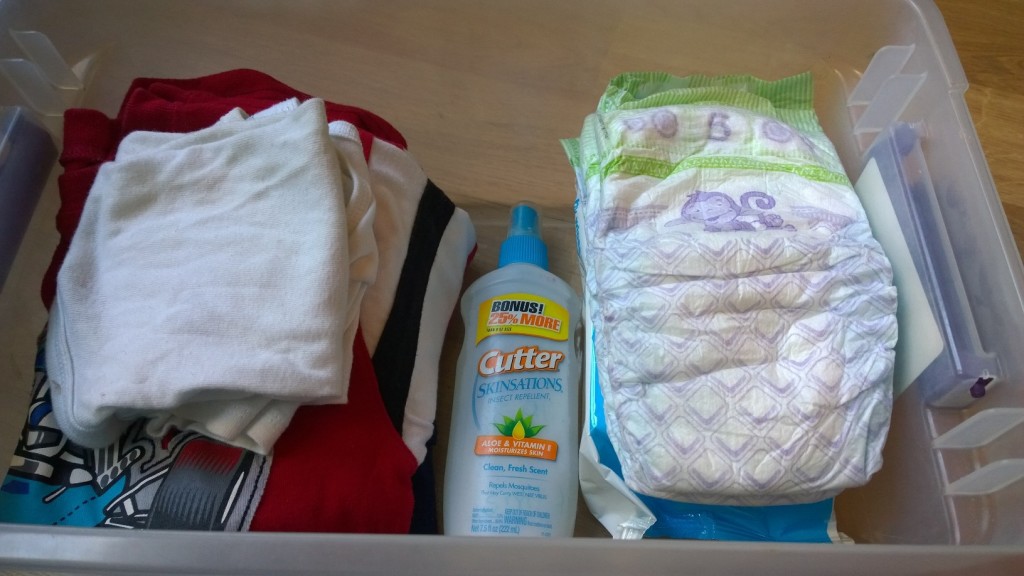 I then place my first aid kit into the box on top of the clothes and diapers.  Everything fits wonderfully, is covered securely, and placed under the seat of my van.
Make your Mobile First Aid and Supply Box applicable to your family.   If you don't have littles who may require clothes changes, just have the first aid supplies.  If you travel long distances regularly, there is space in this size box for a few granola bars or raisins for hungry tummies.
While I still carry diapers and wipes in my diaper bag, I no longer have to carry changes of clothes, sunscreen, bug spray etc. around with me everywhere.  I know that I have what I need in a neat little box under the seat in my van.
Before heading out to run errands today, shove one of these boxes under the seat of your van or in the backseat of the car.  You'll be glad you did if your child gets a minor injury or an "independent" toddler squeezes a juice box all over herself!
[line]
I recommend buying a prepared kit as it will provide you with an easily identifiable box that you can use for a long time. Simply restock the band aids and other items as you use them.